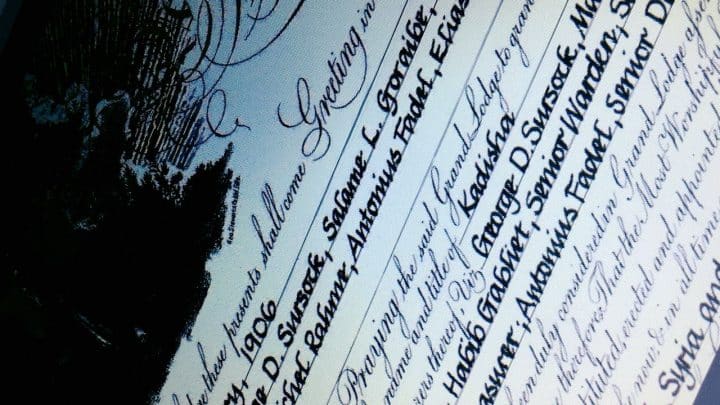 Freemasonry in the Levant (Lebanon, Syria, Palestine, Jordan) was established by the Grand Lodge of Scotland in the eighteen century. Since then, many other French, Italian and Egyptian Lodges were found in the region.

At that time, two other Lodges were established in Lebanon, Lodge Peace 908 in 1900 and Lodge Sannine 969 in 1904, under the jurisdiction of the Grand Lodge of Antient, Free and Accepted Masons of Scotland.
Table of Contents
Establishment Phase
The following proceedings are the transcript of an old manuscript by Bro. Gergy Yenny (1854 – 1941) was a prominent intellectual figure in Tripoli and played a pivotal role in establishing Lodge Kadisha 1002.
Brother Gergy Yenny was a member of the Lodge of Lebanon 1869 in Beirut under the Grand Orient of France's jurisdiction and later on RWM of Lodge Kadisha 1002.
In 1908 Bro. Yenny established "Al Hadara" printing house and published "Al Mabahess" magazine. He was also appointed consul for the United States of America and Belgium.
When approached by Masons from the Sannine Lodge with the intent of establishing a new Lodge in Tripoli, Brother Yenny accepted under the condition of staying in the shadows and refusing a prominent role.
Brother Yenny undertook the first task to contact Brother Esber Choukair, who was WM of Lodge of Lebanon. When asked for exorbitant fees to get a charter Brother Yenny sought counsel with Brother George Dimitri Sursok. He advised him to contact the Grand Lodge of Scotland and ask for a Charter.
At the temple's dedication and installation ceremony, RWM Brother Iskandar Baroudi and Brother Assad Nachou from Lodge Peace 908 came by boat from Batroun and Count Von Molten.
RWM Baroudi was charged with the dedication ceremony followed by the installation of Bro. Sursok as the first RWM for Lodge Kadisha 1002. Lodge Kadisha has attracted numerous intellectuals and high-end dignitaries from Tripoli wishing to join the Lodge.
Brother Gergy Yenny passed away in August 1941. His remains were buried in the family cemetery in Kaftine, leaving behind one of the richest libraries in the north of Lebanon with rare manuscripts and drawings.
The Charter of Lodge Kadisha
Kadisha was adopted as a tribute to Kadisha river that runs east to west from the Kadisha grotto, halfway between Bcharreh and the Cedars of God, to the Mediterranean Sea in Tripoli. The river forms a right angle at a point called "Al Katter." Etymologically, Kadisha has Aramaic roots meaning "Holy"
Kadisha's petition for a charter was written and signed by Dr. Alex N. Baroody, Editor of At-Tabeeb' in January 1906, with an attachment from the 'Right Worshipful Master- of Lodge Peace.' The Grand Lodge of Scotland received the petition ten days later.
Lodge Kadisha 1002 charter was issued on the 1 of February 1906 and was signed by Bro. Charles Ramsay, – Most Worshipful Grand Master and the R.W. Grand Secretary at that time Brother David Raid. The location of Lodge Kadisha was rented from the Rahme Family in Tripoli. Kadisha Lodge was mainly formed by former Le Liban, Sannine, Peace lodges, and a Brazilian Lodge.
The Founding Brethren and other members
Among the founding members of Lodge Kadisha, as per Brother Yenny's records and the Lodge Charter, were:
Brother. George Dimitri Sursok, RWM
Brother. Salame Ghoraybe, Depute Master
Brother. Rashid Al Yassegi, Substitute Master
Brother. Moussa Nahas, Secretary
Brother. Michel Rahme, Treasurer
Brother. Habib Ghabie, WSW
Brother. Sami Nahas, WJW
Brother. Antonios Fadel, SD
Records show that other initial members also included Bro. Soumail Yenny, Brother Mitri Sioufi, Brother Hikmat Charif, and Brother. Afif Afif.
Prominent early members of Lodge Kadisha was Brother. Nassib Bustani was appointed as a representative of the Ottoman Company, representing the Ottoman Empire at the world Fair Exposition in Chicago in 1893.
Its early members came from various backgrounds; Up until 1914, the Lodge was mainly formed by merchants, traders, government employees, and men serving in the Ottoman army.
It also included Landowners with seventeen members, teachers, physicians, pharmacists, lawyers, hospitality managers. The Lodge also had two religious men: an imam by the name of al-Umari and a priest. While most of Kadisha's founders were Greek Orthodox Christians, the Lodge represented a mix of religions, with over thirty Muslims and a few Greek Catholics and Maronites.
Lodge Kadisha formed significant masonic ties with neighboring Lodge Al-Mizab. Dual Membership between these two lodges was ordinary between the brethren. They also collectively founded Milia al-Amin Lodge in 1918 under the Grand National Lodge of Egypt jurisdiction.
Dormancy and Reponing Phases
Lodge Kadisha 1002 went dormant and inactive on many occasions throughout its history.
In October 1930, the Lodge saw his Charter uplifted by the Grand Lodge of Scotland. It is not well known the reasons that led Grand Lodge to take this action.
Since then, various attempts to repone the Lodge were undertaken at different times in its history;
First Reponing
In late December 1966, Brother G.L. Colenso-Jones, – 'Superintendent of the District of the Eastern Mediterranean,' received an unsigned communication letter.
This letter highlighted the eminent necessity to repone dormant Lodges in Lebanon, referring back to two main lodges; 'Mount Lebanon and Kadisha Lodges.
The letter highlighted the importance of strengthening Scottish Freemasonry in Lebanon, preserve it in its leading position, and protect the principles and ideals it upholds and stands for'.
A few months later, a petition to repone Kadisha Lodge was sent to the superintendent, Brother Colenso-Jones, and forwarded to Grand Lodge at Edinburgh. All the signed petitioners were from Peace Lodge, except for Brother. Victor Dichy, a member of an American Lodge, Brother Noureddine Mikati, a former master of Kadisha, and Brother Bahij Fakhouri from El Mizab Lodge. Brother Boutros Khoury from Peace Lodge also supported the petition, Brother Adib Andraos from Zahle Lodge, and Brother Mahmoud Zouhair from El Mizab Lodge.
The listed Brethren expressed their wish to repone the former Lodge to work in the French Language and be in Beirut. The petition stated that the Brethren were 'desirous of working for the prosperity of the order and anxious to expand the right and true principles of our Science and other good reasons.'
The Lodge resumed its activity the following year in 1967 and held its meetings at the Peace Lodge Temple in Bachoura in Beirut. The Lodge remained active until the outbreak of the Lebanese Civil War in 1975 and went dormant again.
Second Reponing
On the 16 of September 2002, a Petition to Repone Lodge Mount Lebanon 1312 was sent to Brother Martin Mc Gibbon, Grand Secretary. The Reponing Letter was signed by Brethren from the following Lodge Al Marj #8, New York #2, Peace 908
On the 26 of November 2002, a meeting facilitated by Brother Graham Smith – MEC in Edinburgh at Brother Mc. Gibbon office
Brother Mc Gibbon advised to follow the following course of actions:
To choose to repone another Lodge – Lodge Kadisha 1002 – instead, as there is no Brother alive from Mount Lebanon as required to repone a Lodge,

To conduct the Lodge's Meetings in the English Language.

To ask a past member of Lodge Kadisha to send a letter requesting the reponing with a special dispensation for Affiliation for the Brethren outside the Scottish Jurisdictions to be sent to the attention of the Grand Master Mason.
Third Reponing
In 2010 Lodge Kadisha's Charter was restituted again through the combined efforts of a Brother from Harmony Lodge 1830 and a Brother from El Mizab Lodge 1130, and the Grand Superintendent's personal efforts of Lebanon.
Since then, Lodge Kadisha 1002 maintained a young and vibrant image, attracted many young members, and took the Freemason's Hall in Fanar to conduct its meetings operating under the District Grand Lodge of Lebanon under the Jurisdiction of the Grand Lodge of Scotland.
If you are interested in being part of our Masonic heritage in Lebanon and join millions of Regular Freemasons around the world, fill in the form here